Suzanne's Poetry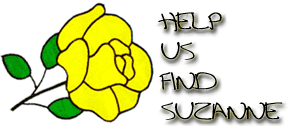 Lost in time, 1992
Take your hand in mine
and we'll walk together
until the end of time
we'll travel down the endless beach
Until all civilization is out of reach
When night time comes
the cold night air will whistle in your hair
First Love, June 1993
Today I saw a sphere of hope
When I saw him looking at my face.
Oh how his fluffy brown hair made my heart race
Only tomorrow will tell the truth
He is the first love of my youth
If I don t talk to him by the time the day is through
There will be nothing left for me to do
I can't let my shyness get in the way
I must swallow it up and find something to say
I want my feelings about him to be mutual by the end of the day
If not I must simply say,
So long for the summer
And wait until next year to start over
Over and over again
The Confidant, 1993
My concern for you is constantly growing
For I am the one with the privilege of knowing
all of the secrets you've kept inside
For I am your confidant and it's my job to hide
I care too much for you
but there's really nothing that I can do
to prevent you from doing these things
Don't you realize the consequence that it brings
You've been telling me all the secrets you have to tell
and somehow, I don't feel so well,
When you tell me the terrible things you've done
I feel that I am the only one
I hold your fate in my hand
But I feel that if I tell someone you won't understand
There's really nothing I can do
So I guess I must go on keeping secrets for you
So I hope you'll think about your actions, my friend
and everything will work out for the best in the end
Contention, 1995
I know your wounds are sore
I sit and watch my virtues and my downfalls at war.
My ugliness and beauty scream at each other in contention,
I want you to know your hurt was not my intention
I hold tightly to the truth
I try not to excuse myself with the naively of my youth.
But still this feeling prevails...
What if what someone wants to hear is not what you have to say?
Do you tell them no or merely look the other way?
Mary's SAAB, 1993
When you see her flying down the road
You know she doesn't carry a heavy load
Her petite beauty forces everyone to turn and see
Such a fine piece of machinery
Boy that flashy red SAAB must go fast and far
Why? Because Mary Lyall is in the car
Father's day, 1993
When I think of all You've done for me
It's not very hard to see
Just how much you care
I appreciate all of the good times
together we share
Badminton in the yard
When practicing with you
it doesn't seem so hard
Teaching me to ride a bike so
I could resign and turn in my trike
I really feel privileged to have
a dad such as you
I'm sure that when making decisions
in life on my own
I will think of Dad and know
what to do
It's for sure that you will influence me
no matter what obstacles get in my way
So I finally have a chance to say
thanks for all the encounters you've
helped me through
And no matter what I will always love you
Happy Father's Day, Love Suzy
Unwanted power, 1996
What must one do
When you live in a place where the strong become weak
and the weak become strong
when the fearless warriors
become helpless kittens in porcelain hands
What do you do to convince yourself you've done nothing wrong?
If only I could take each ending as a new beginning
Each hurt as a learning experience.
If only I could give back the power I never wanted.
Until now, 1995
To comfortably interact
to peacefully coexist
What more could I want?
a reason to say it wasn't my fault
To know is to have been through
and I can say with honesty I had never been there and it wasn't my fault.
My sympathies deep-rooted,
My sorrows never ending (or seemingly so)
I walked on
never giving notice to the flowers that had grown off those roots
Until now.
Forgotten friend, 1993
The sands of time have come and gone
And I've come to grips with what I've done wrong
Yet, despite my guilt, you will not forgive me
As though our friendship was never meant to be
So through time until the end...
I know our friendship will not mend
Because your standards will not bend
So I hope you will always remember me
As your forgotten friend
Hope for the hopeless, 1994
We all hope for the hopeless
Climbing stairs when you can't see the top
Fear of that which is without consequence
Loving the unlovable
Harming the valuable
Relying on the unreliable
Goals without direction
The future unforeseen
Memories of the past
Mixed with a few places I've never been
Numbness beyond belief
Emptiness and grief
Blindfolded and trying to
Make my way to what is right
Expect the unexpected
Burned and sifting through the ashes
Incomplete, 1996
Sitting alone at a table
Watching the petty exchanges between people
Thinking of how good it is to finally feel something
and know that it is real
They have their petty exchanges,
phony handshakes
Numbers written on tattered pieces of paper
Stores selling poorly written books
about my neighbors I've never met
The blending of many conversations
both loud and soft,
public and private,
I can tell the ones who are sincere
just by looking at them
Others speak of last nights game,
the girl at the bars name
brag about having gotten her phone number
and at this I tend to wonder
The word incomplete comes to mind
Storm, 1993
We thought it was gone, but now it's back
See it accumulate in the driveway crack
How it comes with such force
Like the determined jockey on his winning horse
The noise it produces on the ground is so loud,
As it descends from the thundering cloud
The storm deprives us of power all about
When you look outside no one is out
I think everyone shall remember the day
When all the sunshine went away
When forced in the house we have to stay
Just make the most of your rainy day
Do something to keep yourself from trouble
If you're a child go play in your room filled with rubble
Lost Memories, June 1993
She'll need these pictures no longer
Now that there is no need for the memories to grow stronger
Where will this person's cherished memories go?
Perhaps in the trash, the pictures someone may throw
Most of the pictures were for her youth
The window in her mouth when she lost her first tooth
A beautiful bride on her wedding day
The last she saw of her house as she was moving away
And now, it's really sad to say
That these memories that meant so much to her
Are being thrown away, to be seen again never
Along with her soul
Which is being lowered into her burial hole
A New Beginning, 1996
Look at me,
I find my strength within myself,
For it I turn to no one else.
And you give to me the wrecking ball
you were planning to use to break your stonewall
I regard each end as a new beginning
Each choice a fork in my road
Each direction a different path leading to the asymptote of perfection.
Each new power I am given a new fear instilled
I watch your pain manifest and your cup overfilled
and I realize that it is not my fault.
Heat, 1995
Heat is the disease of the summer
It tests our strength
It stresses our minds
The day is a struggle
The night is fiendish dreams
So many strings to pull
So many suppressed screams
The forgotten, 1996
Maybe I'm safer among those
who can not save themselves
Their minds weak
Their demeanor weird, harmless
Their bodies are frail
and their pleasures are simple
They harvest the day
and smile even when the flowers are few
They live in a society that looks down upon them
Speaking to themselves when friends are few
Sanity lost
Maybe someday the people who shun them
will come to terms with them and their importance
By then it will be too late
By then they too will be old
Inflective, 1994
Inflective,
finally able to write
It has built up
Always a scramble for the last drop of water
Tears dry up
Night turns to day
Dreams begin and the fears manifest
Running on fumes of my own composure
How to keep cool in the heat
Swimming the air
Their beast unfolds
Who I Am, 1995
Not a leader, but a follower
Not a speaker, but a listener
Not a driver, but a passenger
Not a creator , but an observer
Belittle my accomplishments as you will
My poetry written on candy wrappers, Band-Aid papers
I'm not much of a reader
But I guess I'm a writer
Never to Return, 1994
There was kindness,
After all, my heart was only human
I had thirst, and I had water,
But only enough for myself
I put your thirst before my own,
Hoping that in time you would search for more to give to me,
And you left me,
My lips parched,
My eyes too dry to shed a tear,
and never returned.
SHHH!, 1994
You don't know me,
Don't say another word,
Don't even try to understand me,
Until you walk a mile in my tightly bound shoes
Until you listen when I explain my truths
Until you see a sunset through my eyes
Until you feel the pain in my sad good-byes
Until you feel my love not reciprocated,
And know how I feel when I am hated by you
Inside this box there is something you cannot see
I am the only one with the key
It can only be opened by me
Thorns of Love, 1994
I could have had your love,
If it was what I really wanted
Taken the thorns from the roses till
My fingers bled
Instead, I swam upstream,
Against the current of my desires
Walked across the quick sand
Held my breath a while
Now the sun shines, the ice melts
And I am allowed to grow
And have my own love in bloom
Despite the winter still on my breath
I could have had your hate if it was
What I really wanted
I could have passed those thorns on
With the points facing towards you
What would be the use
Thanks for allowing me to enjoy my
Peaceful indifference
Heart, 1994
A heart that is shallow feeds off
Pockets that are deep
Longing to hear those words said
To the cheek in a whisper, don't worry-
She's with me, she's taken care of
Sunshine and Rain, November 16, 1994
You're all I need to help me smile
You elicit my inner child
If only I could be,
The same for you as you are for me
You clear my thoughts, you ease my pain
Why can't I be your sunshine?
Why must I be your rain?
You and I, 1994
You are the one I have grown to love
You are the fear I must rise above
You are the one I have grown to hate
You are the dream I contemplate
Etchings, 1994
We declared our love,
With our etchings on an old maple tree
It obviously didn't mean to you what it did to me
All that is left of what we are
Is the carved out etchings in that maple scar
And now I wonder as I walk back to that place
If it was merely a waste of time
Or but a small hole looking into the fractal
That we call life
Reality Check, 1995
Fractals, endings and beginnings
Yet time pulls the pink flowers
From my garden as though they are weeds
And never does it replant the seeds
My future a story untold,
A slide show I play for myself in my dreams
Yet plans must be made before I am but
A dreamer become too old
And the sallow past that is now my present
becomes greener than the future
That we call life