New York State Playing Card Program
The Playing Card Program: Missing Persons, Unsolved Homicide Victims and Fugitives from Justice. A partnership with DA Murphy and the Lyalls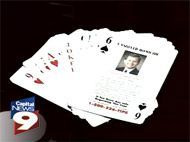 Playing Cards
Effective Playing Cards, which has partnered with the Lyalls and the DA have this message: "Our Crime Stoppers, Law Enforcement and Prison playing cards are custom designed cards unlike any other personalized playing card produced. Each card in the deck portrays another unique profile. These custom playing cards are providing new leads for Cold Case Files, Unsolved Homicides and Missing Persons in every area they are distributed. The remarkable excitement generated by our prison playing cards will also bring incredible media coverage and exposure to your specific program, unit or business".
Effective Playing Cards produced the first custom printed Unsolved Homicide cards with Heartland Crime Stoppers of Polk County, FL. Almost immediately after distributing these unique poker cards to the 2500 jail inmate population of Polk County, Florida, fresh leads into cold cases appeared. Special Agent Tommy Ray of the Florida Department of Law Enforcement Cold Case Assessment Team stated, "It is like interviewing all 2500 inmates about 52 different homicides all at the same time!"
"We have produced hundreds of thousands of custom card decks for many Crime Stopper units throughout Florida and Texas. With the support of Crime Stoppers throughout Florida, we are now producing a statewide-customized poker card deck. This deck features unsolved homicides from across the State. Each inmate in the Florida Prison System will receive one of the 100,000 decks printed. We are in the process of compiling a similar deck for the State of Texas, and hope to expand this program throughout the United States.
We formed Effective Playing Cards, and our sister company, Effective Magazines at the request of Law Enforcement and Crime Stoppers units."
Custom Playing Cards
Custom playing cards are made precisely according to the Lyalls' specifications.
Missing Persons
Suspicious Death
Unsolved HomicidesMiscellaneous